Indoor Air Quality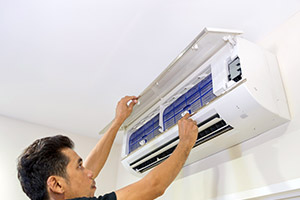 According to the EPA, the average American spends a high 93% of time indoors. It's safe to say that in any home, it's important to become aware of the quality of air that you breathe. At Dittmer Air and Heat, we think indoor air quality is the answer to finding true comfort in your home. Our team has the products and services that you need to control your indoor air quality.
Leading Causes of Poor Indoor Air Quality
Allergies, sneezing, coughing or itchy eyes are a few symptoms that lead us to believe that your indoor air quality is contaminated. Turn to Dittmer Air and Heat to receive an evaluation by our professionals. It is important to your family's well-being, as constant poor health can be a signal of poor indoor air quality.
Some sources of indoor air pollutants include:
Mold
Mildew
Indoor pets
Dust mites
Bacteria
Inadequate air flow
Chemicals from cleaning products
Pollutants from building materials
Air Quality Products
Upon contacting Dittmer Air and Heat, our team will perform an in-house diagnostic to uncover the best solution to achieve a healthy indoor air quality. Our NATE-certified technicians have in-depth knowledge of a wide range of useful air quality systems that will ensure a comfortable environment. We have the skills and tools to determine what specific products your home will benefit from. From air filtration products to humidifiers, our Carrier® products will remove contaminants and bring you back control of your personal comfort.
Contact Us Today
Improve your indoor air quality with the help of Dittmer Air and Heat. Our goal is to provide high quality HVAC services and products that bring long-lasting results. Call us today at (321) 637-0170 or submit an online form to get started immediately. We look forward to serving you!